Learn Chen Taijiquan for Beginners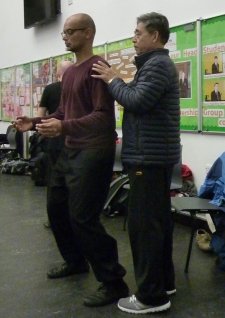 Learn the Chen style "9 form" for beginners in Trumpington, near Cambridge.
Take a free taster class on the 30th of May. The full eight week beginner's course starts on Wednesday the 6th of June, meeting every Wednesday between 7pm and 8pm. The cost for the course is 80 pounds.
Learning and practising taijiquan (tai chi) has several benefits:
Low impact increases in lower-body and upper-body strength
Gains in balance and avoiding falls through greater body awareness
An accessible approach to meditation in movement
Improves flexibility and agility
Only 1 day to go to the taster class
"The exercises and silk reeling and standing pose provide a calming and mindful foundation for learning the forms. These choreographed movements look simple but are in fact subtle and quite intricate. There's great satisfaction in getting the flow of movement right.
"I'd really recommend this class!"
— Adele Geras
"Learning Chen style Taiji was my dream for a very long time. It is elegant, sophisticated and powerful in its own way. It helps you to really 'inhabit' in your body and can be considered as a meditation through exercise. Siva is patient and detailed-oriented. He adjusts his instructions according to students' level and need."
— Liang Shou-en
One hour taster class on the 30th of May at 7pm

My name is Siva Arumugam and I have been practising taijiquan for over 10 years and am eager to pass on this wonderful art with all its mental and physical benefits.

Beginner's classes are from 7pm to 8pm at the Trumpington Pavilion, two miles from the centre of Cambridge.

Trumpington Pavilion,
Paget Road
Cambridge, CB2 9JT